The H-D colors fly high in the sky over Afghanistan.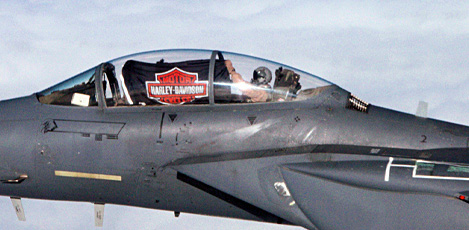 As John J. Newkirk gazed upon the imposing stone archway of Pier 33 in San Francisco, California feelings of bitterness began to well up inside him. Through that famous portal, countless young American men had shipped out to fight in the Pacific during WWII. Many never returned.
It's where his father's cousin, "Scarsdale Jack" Newkirk, had shipped out before being shot down and killed over Thailand – but not before becoming a highly decorated fighter pilot. It was where his father, John B. "Jack" Newkirk had shipped out, as well.
But now, on July 16, 2005, the son was there for a different reason – to retrace (in reverse) his father's 1939 ride from New York to San Francisco on a 1930 Harley-Davidson® VL. The ride was his father's "last hurrah" as an innocent young man before the second Great War changed him – and the world – forever.
See Story: http://goo.gl/spf8qF
#HarleyDavidson #HDMilitarySales #USSoldiers #USVeterans #HD