Ocala.com – By Andy Fillmore
What will 600 motorcycles sound like Sunday during the 15th annual Ocala Harley Owners Group Toy Run? Like Santa Claus is coming.
"The kids hear the bikes in the distance and go wild looking for Santa," said Guy Mongello, Ocala HOG chapter director, of the children on the receiving end of the annual outreach.
The toy run provides Christmas gifts for underprivileged children referred through Kimberly's Center for Child Protection, the Centers, Marion County Children's Alliance, the Ocala Domestic Violence/Sexual Assault Center and Camelot Community Care. Mongello said 195 children were selected to party with Santa this year, up from 125 children in 2012.
Read More: http://goo.gl/UxvLcv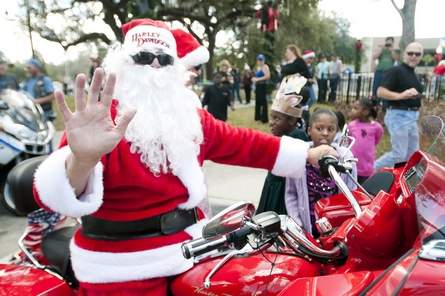 The Ocala Harley Owners Group Toy Run begins with registration at 10 a.m. Sunday, Dec. 8, at Harley-Davidson of Ocala, 5331 N. U.S. 441. At noon, riders will go south on U.S. 441 to Northeast 20th Street and north on Magnolia Avenue to the downtown square, where 195 children will be treated to a party. Music by NdGo will be provided for the public from 2 to 6 p.m. The entry fee for the ride is an unwrapped toy or $5. For more information, call 854-1190 or go to www.ocalahogchapter.net.
#HarleyDavidson #HarleyOwnersGroup #HOG #HDMilitarySales #ToyRun