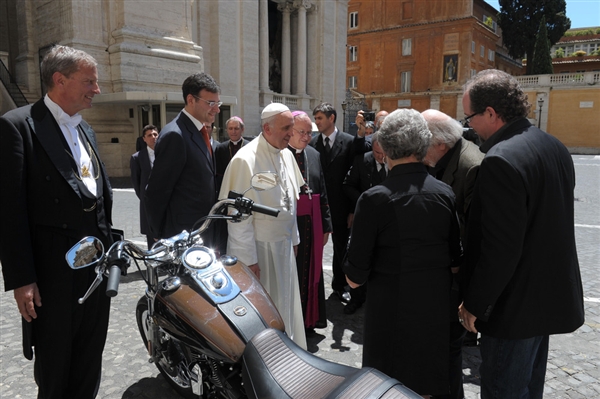 Pope Francis has quickly gained a reputation as the "cool" pontiff, but who knew he had a Harley?
The pope plans to sell off his 1,585cc Harley-Davidson Dyna Super Glide, embellished with a signature on the tank that reads "Francesco," Bonhams auction house announced Monday.
The bike was originally gifted to Pope Francis by the company last June in celebration of the 110th anniversary of the motorcycle brand. But it's unclear if Pope Francis ever took the bike for a spin. "I suspect that it will (have) a very limited mileage," said Ben Walker, head of motorcycles at Bonhams told Reuters.
The money raised will go toward Catholic charity Caritas Roma's renovations of a hostel and soup kitchen in Rome. "We hope to be able to do both Pope Francis and Harley-Davidson proud by raising a significant amount of money for a very worthy cause," Walker said. Bonhams estimated the holy hog could fetch between 12,000 and 15,000 euros, or about $16,000 to $20,000.
After the Harley is auctioned at the Grand Palais in Paris on Feb. 6, a Harley Davidson leather jacket also signed by the pope will be sold separately, according to Reuters.
See Article: http://goo.gl/KfNry0
#HarleyDavidson #HDMilitarySales #HD #PopeFrancis