Online retailer Harley-Davidson Military Sales is giving one lucky military mom flowers and a $100 gift card this Mother's Day!
WOODBURY, NY, APRIL 27, 2015: Harley-Davidson Military Sales is hosting a Mother's Day giveaway in honor of military moms. People are invited to recognize the military mom in their life by entering them for the chance to win. The winner will receive a dozen roses delivered on Mother's Day, along with a $100 gift card to buy Harley-Davidson military gear at HDMilitarySales.com. The giveaway, which boasts the slogan "Think You're Tough? Try Being a Military Mom", is designed to celebrate the mothers of the military. We're honoring the mothers risking their lives to fight for our freedom, the mothers sending their children off to war, and the mothers holding down the home front while their loved one is away.
Harley-Davidson has a long withstanding history with the United States M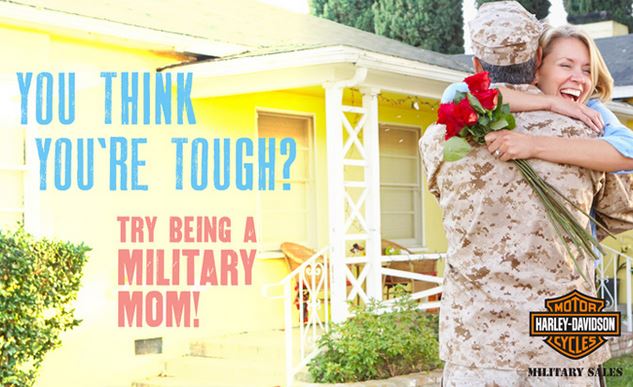 ilitary, dating back to World War I when the first American entered Germany on a Harley-Davidson motorcycle. This relationship with the military is one that inspired the creation of Harley-Davidson Military Sales, an online retailer that features custom-designed military graphics on classic Harley-Davidson style clothing. As a military minded company, one of our key initiatives is to bring military awareness and support to the forefront of the conversation. The Mother's Day giveaway was designed to do just that because it takes a tough woman to be a mom, but it takes an even tougher woman to be a military mom.
If you have a special military mom you would like to honor this Mother's Day, enter her NOW – May 7th in the Harley-Davidson Military Sales Mother's Day Giveaway at http://bit.ly/1bKIj26.
About Harley-Davidson Military Sales
Harley-Davidson Military Sales is a subsidiary of the Overseas Military Sales Corporation (OMSC). Harley-Davidson Military Sales is a licensed retailer of Harley-Davidson Motor Company, selling genuine Harley-Davidson clothing with custom-designed military graphics. OMSC donates a portion of all proceeds to the military community and supports the community by hosting Morale, Welfare, and Recreation (MWR) events on U.S. Military bases overseas. You can learn more about Harley-Davidson Military Sales at www.hdmilitarysales.com