The Yellow Ribbon is a powerful symbol in the United States. It serves as a symbol of remembrance of the brave men and woman who are serving far away from home defending our country, our freedoms.
Looking back through history, the Yellow Ribbon has appeared numerous times, even dating back over 400 years ago in the famed song "Round Her Neck She Wore a Yellow Ribbon. Some believe the symbol may even have ties to the Civil War, although no evidence has been confirmed.
The first significant use of the Yellow Ribbon in modern-day America occurred during the hostage crisis in Iran. A committee in Kentucky organized a campaign to "Tie a Yellow Ribbon" on trees, as well as wearing ribbons to symbolize their support. The campaign gained national recognition, appearing on World News Tonight and Nightline. It gained further recognition when Penelope Laingen, wife of Bruce Laingen who was the most senior foreign service officer being held hostage, tied a yellow ribbon around a tree on the lawn of her Maryland home. When the hostages returned home, people celebrated using yellow ribbons.
In the early 1990's, the Yellow Ribbon reappeared during the Gulf War, along with the slogan "Support our Troops", and other similarly minded slogans. Since then it has been used countless times as a symbol of support for the U.S. Military, often worn and displayed by proud Americans.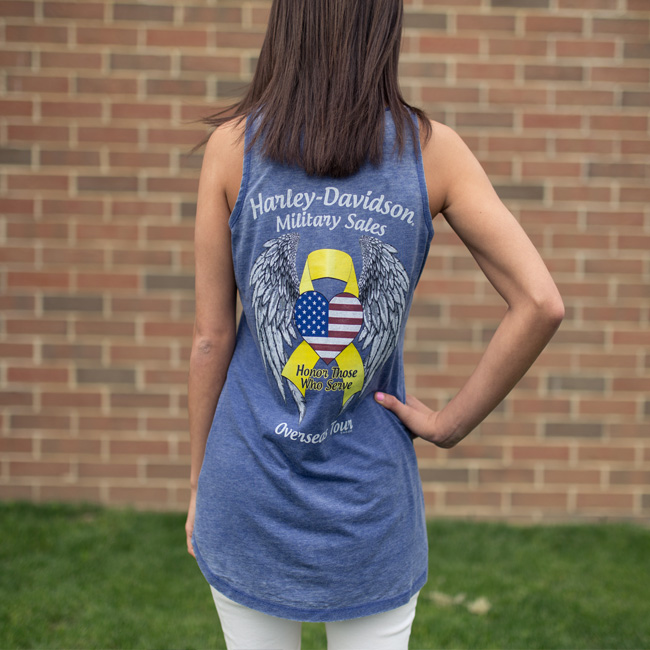 Harley-Davidson Military Sales is a subsidiary of Overseas Military Sale Group (OMSG), The Exchange authorized distributor of Harley-Davidson Motorcycles to U.S. Military stationed overseas. OMSG gives back a portion of proceeds to the military community, supporting organizations such as Wounded Warrior Project and Morale, Welfare, and Recreation (MWR).
To purchase the Harley-Davidson Women's Yellow Ribbon Tank Top visit www.hdmilitarysales.com
Sources: YellowRibbonAmerica.Org, Wikipedia.com, and loc.gov